Overweight Dating: Comprehensive Advice
There are many reasons why excess weight can appear or, on the contrary, disappear: metabolic problems, stress, poor nutrition, changes in the level of physical activity and many others. Someone is desperately fighting with being overweight, and someone is fighting complexes and prejudices about appearance. But when we become a couple, our perception of our bodies' changes. The weight itself may change because now we not only see ourselves through the eyes of another but also share their habits. What does this mean for a relationship? How does it feel to be dating someone overweight? And also, some tips for those who struggle from excess weight themselves – you will find in our article.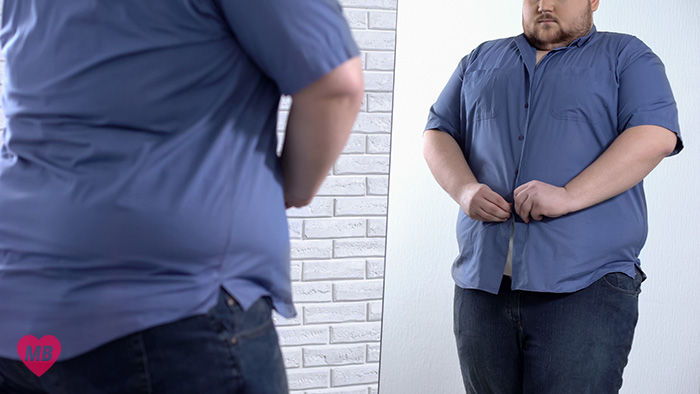 Overweight People Still Experience Troubles in Dating in 2020
"If you do not know how to joke, humiliate and say that it was a joke. Respond to any conviction with accusations of a lack of sense of humor." No matter how wild it sounds, but this approach is quite common in modern society. Jokes about fat people, like jokes about stupid women, for the most part, are terrible and not original.
Fat shaming is actions, statements, ridicule, stigmatization of a person because of their weight, and all these often include humiliation, hidden under the guise of caring for the health of the object of conviction. Fat-shaming leads to depression and eating disorders. More often, it concerns women. People who wear small or standard clothing sizes cannot simply tell an overweight person that fat-shaming doesn't exist. After all, there are many of its manifestations in everyday life: in the media, culture, and even in communication and dating. For some people, nothing can be scarier than to find a woman to date and find out that she is not skinny – they can even run away.
Doctors regularly "reproach" fat people for being overweight, relying on the high morality of harmony. The harassment of fat people exists. Moreover, it carries a danger to health and well-being. At first, glance, when we say things like, "You would rather lose weight because it may be dangerous to your health." You demonstrate an understanding that the causes of heavyweight can be very diverse. Well done, then? Not so fast. People are used to sorting others out based on the size of their bodies.
Mom, dad, school, and society taught us to try to be the best in all areas of life. But to love your body is to accept your imperfections. And yes, the classic pounded housewife is fat and nasty. These images are very closely collapsed in consciousness. "Being fat" has become synonymous with "not taking care of yourself," "being not sexy, dissatisfied with life." Such stereotypes lead to thoughts like, "I feel too fat to date." In fact, we as a society should stop this and let people live the life they want, love and date whoever they want.
Being Fat and Dating: Tips for Men
Most people choose for themselves such a partner with whom they will feel welcome, beautiful, interesting and accepted no matter how much they weigh. Main rules for couples mean supporting your beloved and encourage their self-esteem. Therefore, it is not so important, especially for men to monitor their external beauty as it is important to correspond to the ideal of a man in terms of behavior, actions, and character. Ideally, a real man should be neat and tidy, strong and courageous, confident and decisive, with good manners and a sense of humor.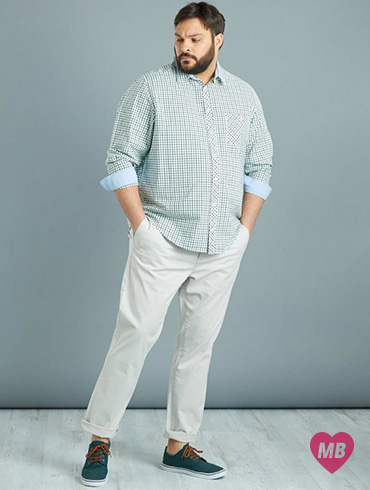 Take care of yourself because anyone should do this. Fat people always block this concept, as a rule, relying on the thought, "Anyway, I'm fat, why should I even try? Nobody will like me anyways." But this is never true, you shouldn't give up because you can take measures and change the situation. Dating when you are overweight doesn't differ much from being in a relationship in any other weight. You still need to look good, be kind to your partner and work on your imperfections. And here are a couple more tips for your help.
What Do You Need to Work on?
Male tips for dating when overweight are focused on the vulnerable areas that you need to improve in case you want to get out of the standstill. First, think over the string and weak points of your body. Do not neglect various creams and masks that will make the skin soft and smooth, go to a beautician or grow a bird. Many women like bearded men, and if you add some facial hair to your image, you will gain at least some extra points over those skinny guys. Secondly, you should pay attention to the hairstyle. Hair is one of the main things that women pay attention to when meeting. Go to a barbershop, today there are a lot of them, and the price of their service is not so high, you can look good on the budget. Just invest in your hairstyle once every 4-5 weeks, and it will boost your confidence for the rest of the month. One lifehack is to ask a girl you like to help you with choosing a hairstyle, it will serve as a hint. Not only you will upgrade your look and appear more stylish, but she will notice that you've considered her advice and understand how important she is to you.
Choose your clothes correctly
Fear of looking too fat in many cases leads to the fact that we buy things that do not suit us at all. There are some common mistakes. We tend to think that baggy clothes will hide the flaws of our bodies, but this is far from the case. The other extreme is wearing tight outfits, for example, old clothes that don't suit us anymore. Then all the folds of your body will be presented to others. And this is not the best option for those who want to emphasize their strong sides and hide imperfections.
Clothing should be sufficiently loose, but not dimensionless and shapeless. On the contrary, experts recommend looking for or ordering things that are made of dense fabrics. Such wardrobe items hold their shape very well and look stylish. Today you can look good on the budget, and not having enough money is no longer an excuse. Actually, nothing is. With the variety of style bloggers and posts on social media that teach you how to dress if you want to emphasize your particular body shape and mass-market clothing brands, you can and should have your style. Let it be a few quality items, like a pair of good jeans, 2 pairs of sneakers and a few stylish t-shirts and hoodies. But believe us, if you know that you look good, it will add to your confidence immediately.
If you want to lose weight
If you think that you can cope with all the difficulties, you can use the following methods.
Proper eating. Now there are a huge number of diets and approaches to dieting. It is difficult to say which are effective and which are not. Have to try different and track the results.
Sport. Extra pounds go away after intense training. And it's quite easy for a person who has fat to turn it into muscle mass. Skinny people have to work ways harder to build muscles, and it is more difficult for them to transform into real athletes. Besides, sports activities bring joy. As a result of physical activity, certain hormones are produced that positively affect mood. But don't overdo it. You do not need to come back home, fall from exhaustion and fall asleep hating this world and skinny people. Just remember that you have been overweight for months or years, so do not expect that a few times at the gym, and you will have a dream body.
Charisma
It is no secret that for women, at least adults, your appearance is far from the main thing. If you have a sense of humor, charisma, and indeed, if you are interested in spending time with her, then she feels it, and your chances will be even higher than that of a boring handsome man. To develop communication skills, you can read different posts, which will not be difficult to find. But the most important thing is practice. More live communication, trial, errors, falls, and your image will rise in the eyes of women. Being fat and dating requires investing a little bit into your inner world. While skinny people sometimes can come clean being stupid or boring, you have no chance for a mistake. Develop your skills, and you will be unbeatable, this is also one of the best online dating when you're overweight tips too.
What attracts a girl more than looks?
As practice shows, when women get to ask what attracts them the most in men, psychologists are ready to provide a whole list of proves that appearance will go to the forefront. Good manners and being a good person is what matters. The psychology of relationships says that the first among the qualities judged by women in men is being a gentleman and treating the girl right. Who needs a selfish handsome man who mistreats you if you can be in relationships with a kind, jolly and interesting person who can lose weight anytime? In modern society, only a small category of men still possesses the qualities of a real gentleman, so this is the first thing that catches the eye of women and forms a positive impression. A woman will always appreciate the one who gives a hand when leaving the transport, helps put on a coat, brings a bag, opens the doors in front of her.
Attention and care
Any girl needs attention and care. We are not talking about feminism and equality in relationships now. We just try to emphasize that the overall support of your partner is important for everyone regardless of sex. Therefore, a good man is the one who can listen, suggest advice or provide assistance in a difficult situation. Attention also lies in small surprises, compliments about her makeup, attire, and most importantly, interest in all her affairs. Be present and listen to what she says. By looking good, you will win her eyes as appearance is pleasant to look at. But by being kind, sympathizing and attentive, you can truly win her heart and occupy the mind.
Good sense of humor
You can attract a girl, even if you are short, overweight and having no special features, simply by having a great sense of humor. No wonder the saying goes that if you managed to make a girl laugh, then you can make her fall in love. Besides, women love with their ears, and jokes and funny stories are great making conversation easy. Therefore, good and appropriate humor will help fall in love with a girl and win her heart. Dating when overweight will become easier if you find ways to stay positive, look at the bright side and laugh at your imperfections.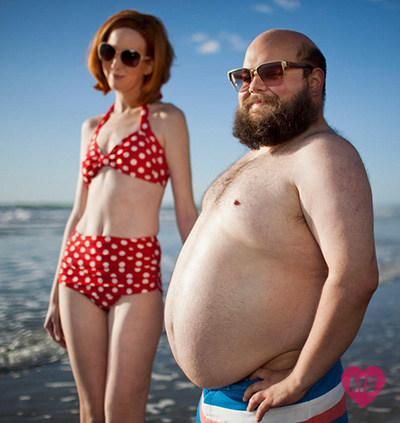 Even if you decide to change something about yourself, go to the gym and start eating properly, you may face failure and want to give up at first. Then, if you joke at your shortcomings and prove that you are stronger than them, you will reach your goal. And no man will be appreciated more by a girl than those who can cheer her up when she feels terrible. That is why one of the best dating while fat tips are to develop your sense of humor.
Dating Someone Overweight: Advice for Gentlemen
If you've fallen in love with a girl who struggles with excess weight, you must understand that, first of all, you are a real man, and secondly, you should approach her very gently. There are so many difficulties overweight people suffer from in everyday life, so you should support your partner instead of making her feel more miserable. Online dating while overweight is easier in these terms because while talking on the web you can focus on the inner world of the person and care for their personality. Plus size and dating apply not only to those who have excess weight and want to find a partner but to their beloved themselves. That is why we have prepared tips for such gentlemen too.
Use positive expressions when talking about food
Talk about food the way you want to talk about it — like delicious food that gives us energy. Try not to focus on the lists of what is not allowed to eat and in no case make any remarks concerning what your partner eats. Negative food-related associations can make your partner feel guilty for eating earlier or for wanting some foods now. Nutritionist Molly Kimball thinks that partners for people with an eating disorder should not be the "food police." Instead, try to come up with healthy food options that your soulmate can eat. Surprise them with new dishes or cook for them what they love. Especially if your partner wants to fight their excess weight and start eating properly, you should encourage them positively and not by talking that if they do not stop eating, they will look like an ugly fat mess.
Cheer them up
Support can come in many forms, whether it is a licensed psychotherapist or a family member who does not evaluate or condemn. We can take part in your total pain for yourself - as much as we can. But overweight people need to understand where they can find help, and you should know what your partner needs. Contact a specialist and talk with friends and acquaintances who have encountered the same problems. Even if your partner continues to visit the therapist regularly, you can find a group of people who will support and remind your partner that they are not alone.
Learn more about this disease
You do not have to be an expert in the field of psychology to support your loved one. Just take a little initiative and find out more about what eating disorder sufferers go through. Although you may not suffer from this disease, studying this topic will help you become more sympathetic and understanding. The first step in helping your partner is the realization that they have not chosen a path like no one craves diseases like schizophrenia or agoraphobia. Unfortunately, many people still believe that those suffering from anorexia or bulimia simply attract attention to themselves that way. By learning more about the disease, you can avoid this kind of misconception.
Ask them in the first place
Everyone is obsessed with losing weight today. Ask any girl what she thinks about her weight, and everyone will say – she thinks she needs to lose a little more weight, even though they look quite acceptable and even skinny. This opinion was formed because harmful fast food filled all shops and all catering outlets. It has already been proven that sickly fat people constantly eat a lot of junk food. It is made in such a way that the more you eat it, the more you want. But not all overweight people eat garbage, some of them have pretty healthy eating habits and ever attend the gym regularly. It means that their shape is the natural condition, and it makes them feel pretty comfortable. So, instead of focusing on the weight of your partner more than her, ask whether she wants to lose a couple of kilos at all.
Separate from the negativity
Avoid disgruntled, picky bores. Sometimes your friends or relatives can make awful remarks concerning the appearance of your beloved one. It means they are just not tolerant people, and their opinion is not worth your attention, so, stop looking at them at all. They will not teach anything, they will not bring anything new to your life, they will only sow doubt and disappointment.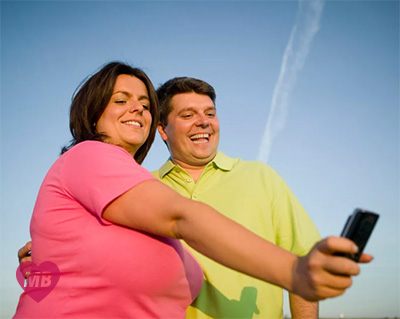 Such friends are not needed. Help your beloved develop her diet, natural food will never add you pounds. Everything is useful to the body: fats, proteins, and carbohydrates, only in moderation and in the correct order. In nature, many products drive excess from the body and act as a building material for muscles and organs, and without this, the body will become sick and sag. Do not forget, the body needs to be built with the help of nutrition, study this question.
Hatred is a harmful feeling
Love the appearance of your partner, her inner world and remember why you are with her. Do not scold her, remember only good luck, joyful days, but forget about the bad forever. Notice everything beautiful that is found in life, this is the best support for a good mood. In fact, when you are in love, you do not notice that there is something wrong with your partner, you love everything about them, and a few excess kilos (in case their weight is almost normal) do not matter at all. Forget about judging your partner or secretly wishing they were skinnier. This hatred will only accumulate inside you, and then you may think soberly, is it even love?
Surround them with your love
Your partner needs positive emotions like never before, so surround them with care. When a mental illness invades a person's life, her self-esteem decreases, remind them in every way that they deserve a lot. Tell them what you like about them, remind them that they are not the disease that haunts them daily. Some people do not understand this until their partner convinces them, and this gives strength on the path to recovery. Love can be expressed not only through words. Try to arrange your partner a day at the SPA or a fun trip. Such activity also makes people busy, minimizing the time they spend alone thinking about their struggle with society.
For men, weight gain is also not a pleasant event. Sometimes, they watch their appearance no less than women. A man who has gained weight can be accused of weak character, lack of physical activity and masculinity. On the other hand, a man who is in a relationship and has dramatically lost weight may be suspected of treason or trying to find a more attractive partner. Many women think that the desire to get in shape appears only when a man wants to attract another woman. In fact, there are many other reasons not related to treason, for which he can lose weight. A woman's task is to try to understand his motives and, in any case, support him during this difficult process. And for those who still doubt, "Can fat people find love?" the answer is affirmative, so do not fear and reach your goals.
There are no comments. Your can be the first
Add Comment