The Guide to BDSM Sex in Your Relationship
Many people think that BDSM is just a sexual quirk – someone likes to torture, someone to suffer. However, sadomasochistic inclinations occur in people much more often than we think.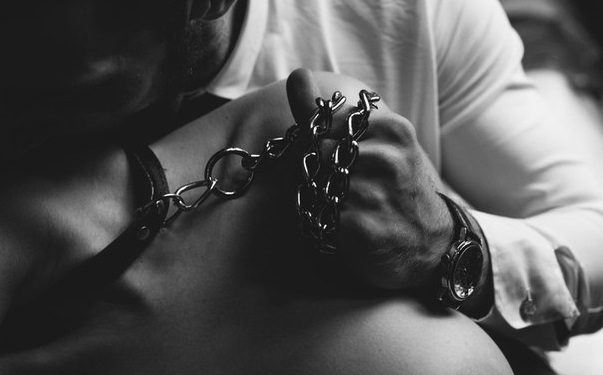 What BDSM stands for and why people love it?
Perhaps your lady deserves something more than flowers and sweets, for example, extraordinary sex. Didn't you know that in our time women are full of ideas that were previously shameful? Read this article and make her scream (because of pleasure, of course). BDSM for beginners
1. What is BDSM?
What does BDSM stand for? In short, it is tying, domination-submission, and sado-maso. A person, who is close to BDSM, usually practices one or two sub-cultures of three and almost never all three at once.
2. Practitioners of BDSM have no mental abnormalities
These people are physically and mentally have no differences with you. In fact, they can even be your neighbors, teachers of your children, and your colleagues – you will never guess unless they tell it because there is no sign that a person likes BDSM. Also, you may find them on BDSM sites.
3. You can always say "no"
Any partner can say "no" at any time and this means to stop – this is the basis of the basics. It is absolutely natural and a partner can always be stopped.
4. People that like BDSM are as stable as those who prefer normal sex
And there is not more sexual violence than in life of other people. And these people don't judge and don't condemn those who don't like it.
5. Latex, lashes, and chains are optional
Of course, many BDSM enthusiasts have such things in their arsenal, but this doesn't mean that the whole culture is built on them. And even if someone is engaged in domination and subordination and uses these and many other tools for their intended purpose, all this is done strictly by agreement, with the ability to say "no" at any time and, of course, without any pain (maybe with it, but it is strictly optional).
6. Roles in BDSM are not fixed
Today you dominate and your partner submits, and tomorrow you change roles.
7. Learn before you start
Before starting to practice BDSM, search for the Information on the Internet and even better – find the appropriate club. Since partner's feelings are your top priority, learn more before you try.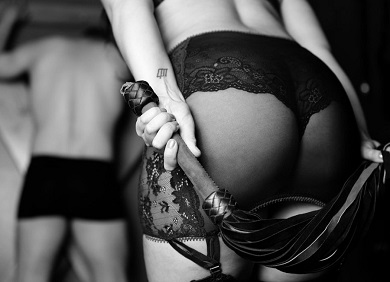 8. Stop words are important
As we noted above, any partner in BDSM can stop the whole process at any time and this will not be perceived as an insult. For this, you can use both the usual "no" and more complex and sophisticated words. It is important that they exist in your couple and it is important that all agree on their use before the process begins.
9. Everything happens not so spontaneously as shown in porn
In order for everything to work out, you should choose the right time, place, tools, and techniques. Spontaneity in BDSM is not welcomed and extremely rare. You have to agree on stop words and get to know the partner's preferences.
10. People talk more during BDSM
Partners talk much more before sex, during it, and even after. Safety and pleasure are the main goals of any sex. So, both must clearly know who and what can and can't do, what he/she will tolerate, and what is absolutely unacceptable to him/her.
11. There are many different types of BDSM equipment
In BDSM, there are thousands of different toys. They are made of different materials, different in size, and all sorts of devices that increase sensations. But you should be extremely careful applying them.
12. It makes sense to talk about this with your partner
There are a lot of stories about how a person was tormented because he or she didn't dare to tell his/her partner that he/she wanted to try BDSM and then, this person learned that a partner wanted the same. And such cases are not uncommon in the BDSM community. Therefore, if you have such fantasies, it's time for a conversation. This article seems a good reason to start a conversation.
BDSM practices you should definitely try with your partner
Let both of you don't know anything about BDSM, you don't "torture" each other, there is no "pain" in your house, but it can be damn exciting. What methods of BDSM will appreciate your woman?
BDSM ideas
1. BDSM submission
A real alpha male is a dream of any woman. He must be authoritative, self-confident, and even a little strict. Therefore, the concept of sex, where a man assumes a dominant role, as a rule, doesn't cause obvious rejection in women. However, in order for your bedroom to have a real atmosphere of BDSM, it is enough just to command. The point is to build all sex on the idea "you say – she does" and to suppress any compulsion of a partner to do something autocratically – whether to throw off her panties or switch the speed on the vibrator. Only when (and if) you command to do it.
The main thing is not to force events and not try to demand from a girl some very outrageous, stupid and humiliating things (even if they looked extremely in a porn film). If earlier you had everything, let's say, on a democratic basis, even minor changes in sex life will significantly increase excitement and expand the range of sensations.
2. BDSM spanking
We wouldn't recommend immediately attacking a girl with a BDSM whip or a flogger. There are other, less aggressive options. As you probably already guessed, you will slap female buttocks (this, of course, is not BDSM-know-how, but gives new impressions to any sex). A lot of nerve endings are concentrated in the buttocks, which immediately respond to stimulation. The acoustic effect, in this case, will be maximum (neighbors should estimate), and pain sensations, on the contrary, are minimal. If this type of activity is the passed stage for you and/or you want to strengthen your sensations from controlling your partner not by a hand – get a special device, which you can find in every sex shop.
Theoretically, the pain threshold is reduced from excitement, but in practice – it is necessary to calculate your energy: try not to get carried away enough to lose contact with reality and stop following the partner's reaction. It's better to work at a slow pace and without a clearly traced rhythm. Waiting for a slap, a girl will really turn on.
3. BDSM binding
It is not necessary to be a guru of BDSM sex and have in your arsenal 20 kinds of rope of various thicknesses. In order to partially immobilize a partner, you can use ties, stockings, scarves, ribbons or belts. The rougher and denser the material is, the more urgent we don't advise you to use it where the skin is especially tender, for example, in the area above the wrists. If it is your first experience, it is better to tie your partner's hands with a ribbon: get her wrists behind her back and fix them there in any way you can. The main thing is to keep a balance between a too tight knot and a fictitious knot that may untie before a girl has time to at least understand and feel something.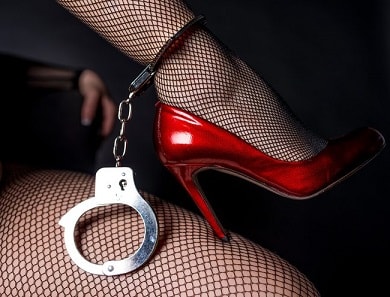 A rough officer's belt isn't good in this case – choose something softer. The point is not to leave marks on the body of your woman that show your diligence, but to immobilize her. In this position (with hands tied behind her back), it is preferable to have sex behind a woman. She can stay on her knees or lie face down on the bed. Penetration from behind is also good because the effect of "anonymity" works – without seeing your face, she can concentrate better on her feelings and/or imagine that her tormentor is not you at all, but some ruthless but damn attractive stranger.
4. BDSM tying
After all, if a girl has only hands bind, nothing prevents her from escaping and running to the nearest payphone and calling 911. It's another matter if you tie her to a bed or a chair. The second option is easier to perform. So, you tie your partner's hands behind her back and tie them to the back of a bed or even a chair. Her feet are also must be tied.
5. BDSM handcuffs
It is generally believed that if you appear at the doorstep with such BDSM toys, you will be 100% pleased by a woman. They say that this accessory is a priori attractive for women because it looks like bracelets. In comparison with ropes, the use of handcuffs may seem a nonsense for beginners. But don't underestimate this thing. The bottom line is that handcuffs can't be cut, torn down, or pulled by force, and it is impossible to get rid of it without a key. And the deeper a woman feels helpless, the more intense and brighter will be her sensations.
6. BDSM games
Ice is a great toy that can be used in different ways. For example, you can act in the old fashion – move an ice cube through the whole body of your partner, especially if you tie his/her eyes. Or you can take an ice cube in your mouth and kiss your partner's hot body with cold lips and tongue.
Make a set of cards and write some erotic punishment. If a sub behaves badly, force her to get the punishment out of the box. Of course, the content of punishments will depend on the personal tastes and preferences of specific people.
The next game is quite extreme BDSM. This is a technique that can blow up your sex! There are hundreds of options, but the basic idea is simple: to make sure that your partner can't experience orgasm for a certain time. You shouldn't make this too easy for your partner; you can, for example, require your partner to watch BDSM videos (if they turn her on), but you shouldn't allow your woman to feel orgasm. Over time, the sexual tension of a sab increases and your partner becomes simply infinitely excited! When it is done for a few days or longer, it creates a very powerful level of sexual arousal. When you finally allow your partner to discharge – she experiences extremely intense sensations!
The next idea is good for sub-women. Choose a time period, such as one specific day, when your partner should be available for sex at any time and ready for it regardless of her condition and level of excitement. She must be ready for immediate sexual penetration. Also, she has to wear BDSM clothing. Periodically, during the day, you should take advantage of her willingness by taking her without warning and whatever she is doing at that moment. It is her duty to be ready and well-lubricated at any time.
Conclusion
Sadomasochistic inclinations have many more people than you think. How many people live in unhappy marriage and suffer instead of changing something? Condemnation is unlikely to help someone change something or become happier. So, it makes sense to accept yourself and others as they are. Doing so, you will wonder how diverse and interesting our world is.
There are no comments. Your can be the first
Add Comment