Looking for Unique Wedding Themes? Here Is Our Top 25
A wedding is a responsible event for all future spouses. Everyone is tired of traditional wedding ceremonies and wants to somehow diversify it and make this day remain in the memory of all guests as the most unusual wedding. Here the newlyweds are wondering what wedding themes to choose? How to design everything, and what outfits to choose to harmoniously look with the whole decor? Check out our wedding ideas.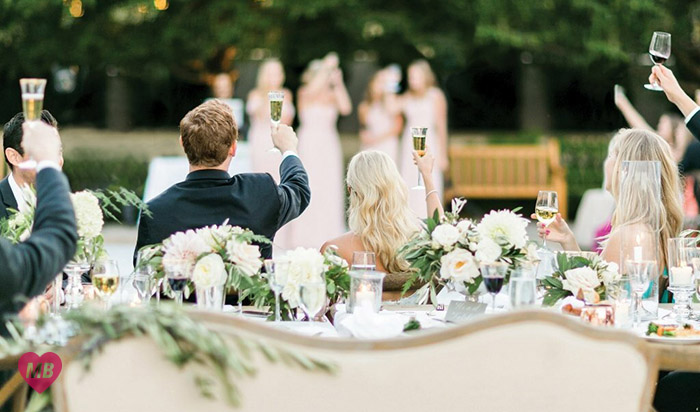 Tips for Choosing a Theme and Organizing a Wedding
We have selected for you several tips and tricks that will help do everything in time and save you from unnecessary hassle on the most important day in life. After all, this is your holiday, and if you want to please a woman, then the main task is to prepare everything so that you can enjoy every minute of this unforgettable event when the wedding day comes.
1. Choose a day
After you announced the wedding, it's time to decide on the date of its holding. At the same time, consider not only the desired season and symbolic dates, but also the intended wedding style and plans for the honeymoon. Consider the wedding season. The choice of the venue, the style, and even the dress code for guests will depend on what month your wedding will be held. The style of the wedding in cold winter or hot summer will vary significantly.
2. Start preparing in advance
It takes approximately 4-6 months before the wedding date. For this time, you will solve all organizational issues without rush and unnecessary stress. Besides, the sooner you start preparing, the more choice among places and contractors you will have. Start your preparation with budgeting. This is the foundation of your holiday, which determines the location of the celebration, its style, and the number of guests.
3. Make a guest list
This point is rather complicated for some couples as wedding ideas sometimes don't coincide. For example, a bride wants a magnificent celebration with many guests, and a groom wants a modest ceremony and travel. It is necessary to find a compromise and decide on the format of the celebration. Discuss with your partner the list of guests and calculate their approximate number. Also, consider the fact that there may be single women looking for men at your wedding. So, you can introduce them to each other.
4. Decide on a wedding style
There is such a thing as a wedding style – classical, bohemian, loft, vintage, rustic, etc., so you need to think over the romantic wedding themes in advance. It depends on the choice of venue, wedding dresses, and decor. Use wedding blogs for inspiration. Perhaps you like the traditional version of the celebration or maybe you want to arrange a thematic ceremony. This is a very important point since a further plan proceeds from it.
25 Wedding Ideas for Any Season, Budget, and Taste
Modern weddings are increasingly moving away from accepted standards; today these are vivid and memorable events. Most newlyweds refuse boring gatherings with familiar contests and entertainments, and they are replaced with creative events, stylish decor, new, bold, and, at the same time, touching traditions. So, here we have different wedding styles.
1. Classic wedding
Classic wedding styles are for those who want a beautiful, elegant celebration without too much pretentiousness. It can be based on pastel colors. The shades of pearls, ivory, ash pink are especially elegant. The images of the bride and groom imply restraint and elegance. The classics are always relevant and never go out of style.
2. Art Nouveau wedding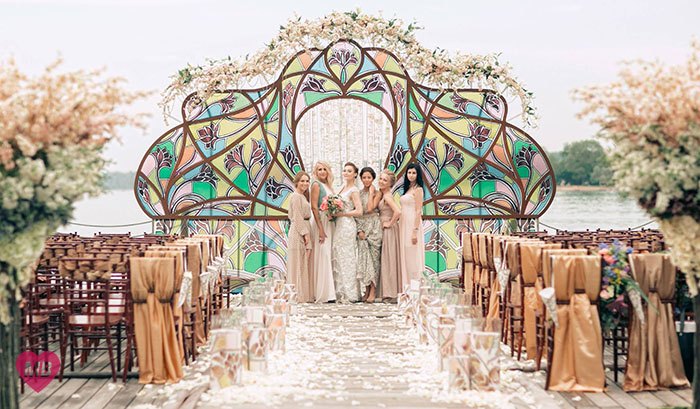 This is an excellent solution for couples keen on creativity, intending to demonstrate their individuality and sophisticated taste. This is a modern wedding style built on lightness, airiness, smoothness of lines, in the center of which there are rich shades, floral motifs, intricate stained-glass patterns, and a high degree of decorativeness.
3. Eco-style wedding
Are you tired of the city bustle? Would you like to be closer to nature on your wedding day? Such types of wedding themes are suitable for those who want to make their life better, surround themselves with eco-friendly things and achieve harmony with nature. Eco-wedding involves the use of a natural color palette in the design. In summer, you can choose gray, brown, beige shades. In the cool season, juicy colors are suitable – yellow, blue, green.
4. Vintage style wedding
This is one of the best spring wedding themes. A wedding in vintage style is an unusual thematic trend so popular now among young couples. However, according to experts of wedding agencies, a lot of grooms and brides, describing the organizers how they see their future wedding in a vintage style, often mention details that are more typical of traditional retro and even antique style.
5. Oriental style wedding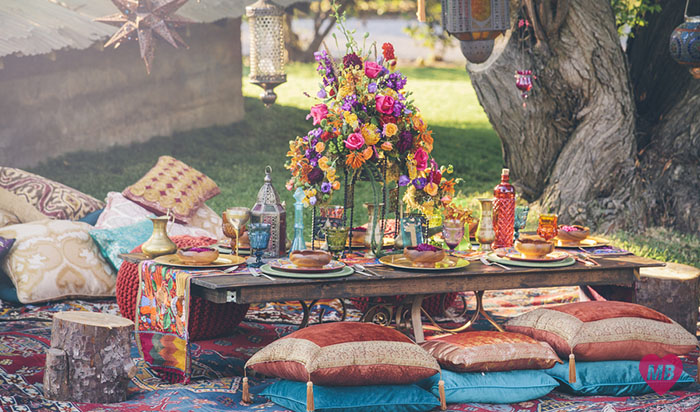 Any non-standard wedding is not able to go unnoticed. A wedding in an oriental style can serve as a vivid example of this statement. It is spectacular, attractive, and incredibly colorful. Unlike traditional celebrations that take place according to hackneyed scenarios, an oriental wedding is not just a "sweet holiday," but a real, spectacular show event with costumed performances, an interesting program, and music imbued with the exciting charm of the East.
6. Halloween wedding
Autumn is an inexhaustible source of creative inspiration. Considering the most interesting wedding themes for fall, don't ignore a wedding in the style of Halloween. This celebration with the proper organization can turn into a real theatrical performance where the roles of the main characters are assigned, of course, to the bride and groom.
7. Marine style wedding
Who doesn't want to have a wedding by the ocean? If you don't have the opportunity to celebrate your wedding abroad, then this doesn't matter because any beautiful and natural reservoir will help implement such an idea. Another great decision is to rent a hotel or a cottage with a swimming pool or even hold a ceremony on a motor ship or a yacht.
8. Nautical style wedding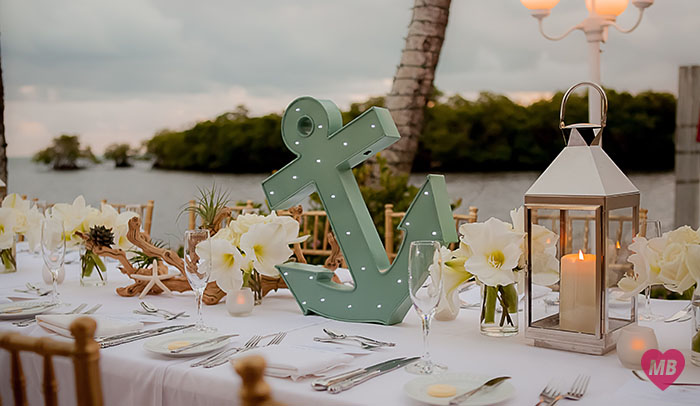 Representatives of modern event agencies believe that a nautical-style wedding is an event that surpasses all other well-known theme celebrations in the originality of its design. At the same time, a nautical wedding is one of the most difficult – in particular, if we talk about organizational issues, choosing a color palette and outfits, and drawing up a script and developing contests. There are many options, but you will have to give preference to only one.
9. Wedding in minimalism style
A wedding in the style of minimalism is an option for purposeful, confident people since this direction can demonstrate the strength of character and sophistication of taste. Its essence is to create a simple but impeccable image, without a single false note. This applies to all details, including invitations, wedding cake, bridal bouquet, which can consist of only one flower. Weddings in this style are often performed in a monochrome palette, and, most often, completely in white.
10. Rustic wedding
Rustic is as close as possible to nature, fresh air, and everything simple. Therefore, the best idea is to have such a celebration on the street in the warm months of the summer. The images of the couple should be as simple as possible. The bride has a light flowing dress. A classic formal suit is not suitable for the groom, but a shirt made of natural fabric, in combination with summer trousers and suspenders will be good.
11. Tropical wedding
Are you looking for wedding themes for summer? If you like fruits, then this option is for you. Organize a vibrant summer ceremony filled with southern fruits: pineapple, papaya, mango, and others. Orchids of various colors are also suitable for decoration. A tropical holiday, like the previous ones, is appropriate to organize in nature: in a park, near a river or lake, outside the city.
12. Provence style wedding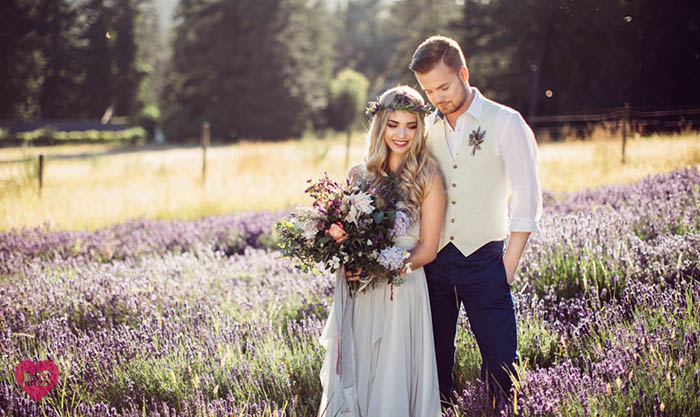 French Provence is one of the most relevant topics in summer. After all, lavender sprigs begin to bloom during this period. It is characterized by simplicity and grace, combined with the aristocracy. It will also be appropriate to celebrate in the fresh air. You can rent a manor or a cottage in the country where there is a flowering meadow. To recreate the atmosphere, wicker or wooden furniture, ceramic dishes, French wines and cheese, birdcages, natural fabrics, and of course, lavender will help you.
13. Rainbow wedding
Another interesting option for those who can't decide on the color or love everything bright and positive is a rainbow wedding. Bright colors will give the celebration a cheerful mood. Moreover, as our ancestors said, "Those who see a rainbow will be happy!" So, choosing such a bright theme, it will bring happiness and joy to your young family.
14. Botanical wedding
This is one of the simple wedding styles. For several years, the popular botanical style has not lost ground. But it has become more minimalistic. Soft and restrained botanical style praises admiration for nature and natural shades. No pomposity, splendor, pretentiousness. There is only elegance, soft lines, and naturalness in the design.
15. Beach wedding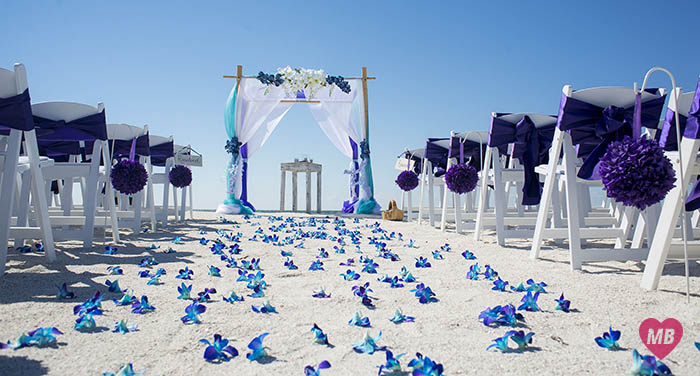 This is a beautiful, delicate, and romantic idea. Just imagine snow-white sand, a beautiful flowing dress of the bride, a light breeze. All this is more suitable than ever for couples in love. Just think about what the end of the celebration might be. Beautiful scarlet sunset, bright stars, gorgeous fireworks... Well, can anyone resist this?
16. Movie based wedding
The most popular films for theme weddings are The Great Gatsby, Breakfast at Tiffany's, and Agent 007. The main feature of choosing such wedding styles is that all guests should be dressed in the style of the film, depending on the time in which the action takes place in the film. Of course, this will set an amazing mood for the guests, and the photos will be breathtaking.
17. Shabby chic wedding
A wedding in this style will appeal to dreamy and romantic natures. This is a special action that plunges people into the fabulous atmosphere of the Victorian era – the time of leisurely tea parties and small talk. Design in the style of shabby chic is based on a combination of beauty and sophistication along with slight negligence. It is based on intricate patterns, floral prints, massive lace, ruffles, ribbons, shabby vintage pieces of furniture, and decor.
18. Gangsta style wedding
For more serious people, a gangsta wedding style is suitable. Retro cars, Thompson slot machines, casino of the 80s, music in the style of jazz, dances like at underground discos, games, and gangster films – all these are integral attributes of such a wedding. Bring all ideas to life, and you will be surrounded by an atmosphere of mystery and power.
19. Gamers style wedding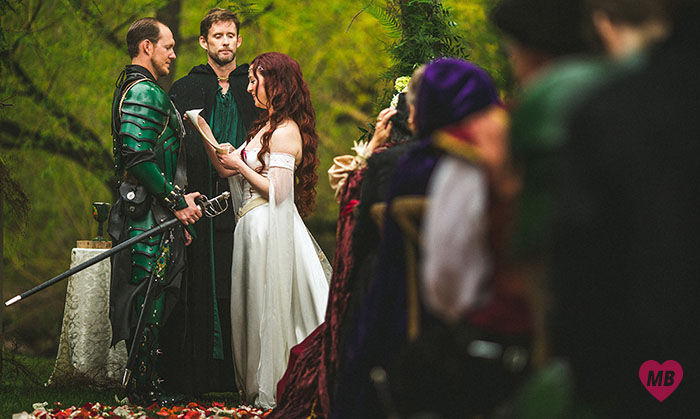 If the newlyweds are addicted to Lineage II, for example, they don't even have to come up with anything new. It is enough to realize the ideas of your favorite game in reality. Not just the bride and groom will sit at the head of the table, but the bright elves in love. And guests will turn into mighty orcs, adventurous gnomes, and brooding dark elves.
20. Boho style wedding
It will suit harmonious, open personalities, who feel unity with nature. The basis of the style is naturalness, a combination of eclecticism, hand-made, hippies, and gypsy motifs. Most of the decor can be found in the grandmother's trunk: carpets, tapestry pillows, lace, colorful curtains, dream catchers, kerosene lamps. The images of the newlyweds are dominated by slight negligence, emphasizing the free character and independence.
21. Loft style wedding
Its peculiarity is that the event is not held in the banquet hall but the abandoned buildings of factories, culture houses with bare walls, high ceilings, and large windows. Before the newlyweds, a huge space opens up, which they can dispose of at their discretion – to have any interior, create several unique locations, plan zones and lighting.
22. Christmas fairy tale wedding
This is one of the best winter wedding themes. Compositions of fir branches, garlands, toys, cones, and serpentine will help emphasize the theme of Christmas. Gingerbread cookies in the form of Christmas trees, Santa Claus or snowflakes will perfectly serve as small gifts for guests. On the tables, tangerines and oranges blend harmoniously. And mulled wine can be the main drink. Ice sculptures, beautiful lights, and fireworks are great for street decorations.
23. Scandinavian style
It attracts with its laconicism. It is perfect for couples who prefer simplicity and comfort in everything. The design is based on natural fabrics, pure shades, and natural motifs. The Scandinavian style is very close to the eco-theme and resembles a rustic style in many ways, but it is more decorative. Scandinavian style is especially good for a wedding in winter.
24. Country or village wedding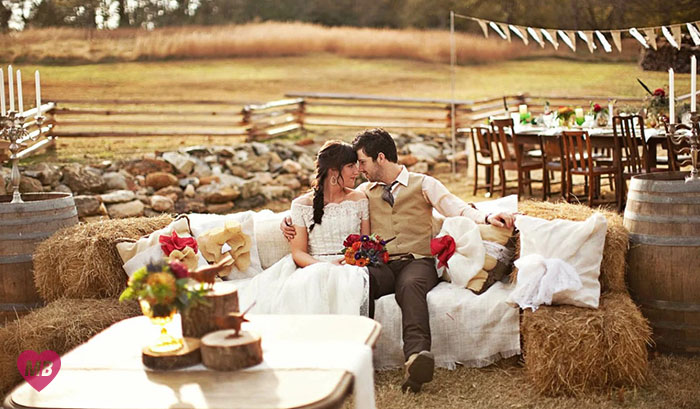 Do you want to get more elegant wedding themes? Well, the village style wedding is simple, slightly brutal, but with romantic notes. The event is best arranged in the countryside under the open sky or in a spacious hangar. The selected scenery is the most uncomplicated: wooden wheels, trolleys, watering cans, rubber boots, and other village attributes. The newlyweds' outfits should be comfortable, not constraining movements, without a hint of luxury.
25. Berry wedding
Are you looking for unique wedding themes? This is one of the main trends in the design of summer weddings. The abundance of fruits and berries allows you to use them not only in desserts but also in jewelry. Raspberry or strawberry, currant, cranberry, sea buckthorn, cherry, and so on – using berries as the main element of decor brings a lot of positive, good mood and brightness.
To organize an unforgettable wedding, the newlyweds should consider all the little things from invitations to the final chords of the holiday. Also, responsibly choose professionals for photo and video shooting. Your holiday is only in your hands.
There are no comments. Your can be the first
Add Comment